Partial vs Full Knee Replacement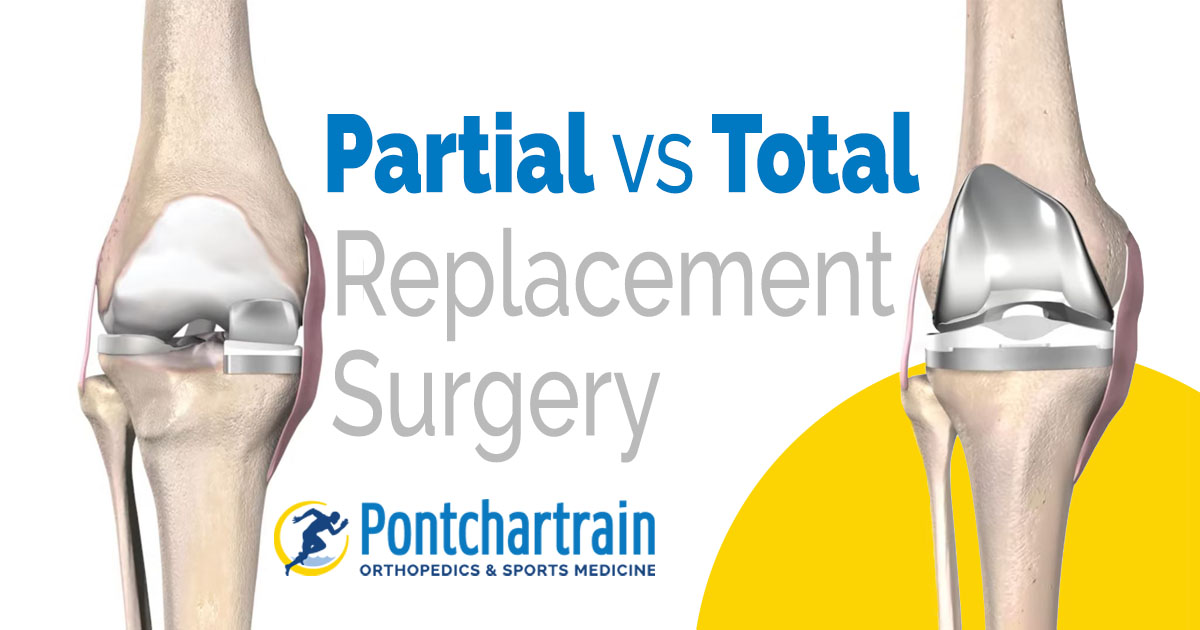 For those suffering with knee pain, the thought of undergoing knee surgery can be a daunting one. Patients with chronic arthritis of the knee may reach a point where their joint is damaged beyond repair, requiring a knee replacement. In today's blog, we'll discuss partial vs full knee replacement-- and how the doctors at POSM help patients choose the procedure that's right for them.
Partial and Full Knee Replacement Surgeries
There are many steps involved with knee replacement surgery beyond the simple replacement of the damaged bone and cartilage. In order to correct deformity in the knee, the surgeons at POSM must make patient specific bone cuts and rebalance the ligaments of the joint. Balanced ligaments allow the knees to bend properly, keeping the joint healthier for longer.
The specialists at POSM are fully trained in both partial and full knee replacements. Knowing the advantages and disadvantages of partial vs full knee replacement surgery allows the doctors to create unique plans of treatment based on their patients' needs. Thanks to recent advances in technology, POSM is among the first in the region to offer same day outpatient robotic knee replacement surgeries, which provide patients with a streamlined treatment experience that involves less pain and a quicker recovery. Traditional knee replacement surgeries sometimes take months to fully recover from. However, most POSM patients are able to walk immediately after their robotic knee replacement and can carry out regular tasks.
Partial vs. Full Knee Replacement: Which do I need?
The type of knee replacement surgery needed for a patient will depend upon the condition of each part of the knee. Knee joints can be divided into three parts, or "compartments." The medial compartment is located on the inside of the knee, while the lateral compartment can be found on the outside portion. The final compartment, the patellofemoral compartment, is the portion of the joint between the kneecap and the thigh bone.
Partial Knee Replacement
In cases where only one compartment of the knee is damaged, it may be possible to perform a partial knee replacement. This includes patients with a history of cartilage or meniscus damage that has deteriorated just one part of the knee. This means that only the damaged part of the knee would need to be replaced, leaving the healthy compartments intact. In many cases, partial knee replacements do not require the same extent of ligament balancing that's needed in a full replacement. The biggest advantage of a partial knee replacement is that it results in a more natural-feeling joint after recovery, since much of the original bone and ligaments are left in place.
Full Knee Replacement
If two or three compartments are damaged, then it is often recommended that a full knee replacement take place. A full replacement might also be necessary if there is advanced arthritic damage to the knee or ligaments. The total replacement of the knee is frequently required in cases where chronic arthritis has caused severe bone deformities which cannot be fixed with a partial replacement. Full knee replacements also require more ligament balancing, which can extend recovery time. Because much of the original joint is replaced in these procedures, patients often find that while their knee pain has disappeared, the fully-replaced joint can feel mechanical.
The benefits of Knee Replacement Surgery
In most cases, partial knee replacements are completed in an outpatient setting and have a quick recovery time. However, thanks to POSM's robotic knee surgery capabilities, patients can experience the benefit of a quick recovery whether their knee was fully or partially replaced. This is because, unlike traditional surgery, robotic surgery uses specialized computer programs to customize procedures for each patient's needs. Therefore, the procedure is more minimally invasive, and spares more bone, ligament, and muscle. This means that POSM patients recover more quickly and experience less post-op pain.
Do You Need a Partial or Full Knee Replacement?
If you have chronic arthritis of the knee that requires a knee replacement surgery, your doctor at POSM will weigh the benefits of a partial vs full knee replacement surgery to determine which procedure will best suit your needs. The knee replacement specialists at POSM, using the most state-of-the-art technology available in the Southeast Louisiana region, stand ready to build a custom care plan to meet your needs. Contact us today to schedule an appointment with one of our board-certified joint replacement specialists.
About the Doctor
Joseph L. Finstein, MD specializes in sports medicine, focusing on shoulder, elbow, hip, knee, foot, and ankle injuries. Dr. Finstein completed his Sports Medicine Fellowship at the Rothman Institute at Thomas Jefferson University  He is currently the team physician at De La Salle High School. Prior to joining Pontchartrain Orthopedics & Sports Medicine, Dr. Finstein assisted in the care of athletes from the Philadelphia Eagles, Flyers, Phillies, Soul and St. Joseph's University.
---
This website is not designed to and does not provide medical advice, medical diagnosis, professional opinion, treatment or services to you or any other person. Through this website and links to other websites, Pontchartrain Orthopedics & Sports Medicine provides general information for educational purposes only. The information provided in this website, or through links to other sites, is not a substitute for medical care. You should not use this information in place of a visit, call, consultation or the advice of your healthcare provider. Pontchartrain Orthopedics & Sports Medicine is not liable or responsible for any advice, course of treatment, diagnosis or any other information, services or product you obtain through this site.