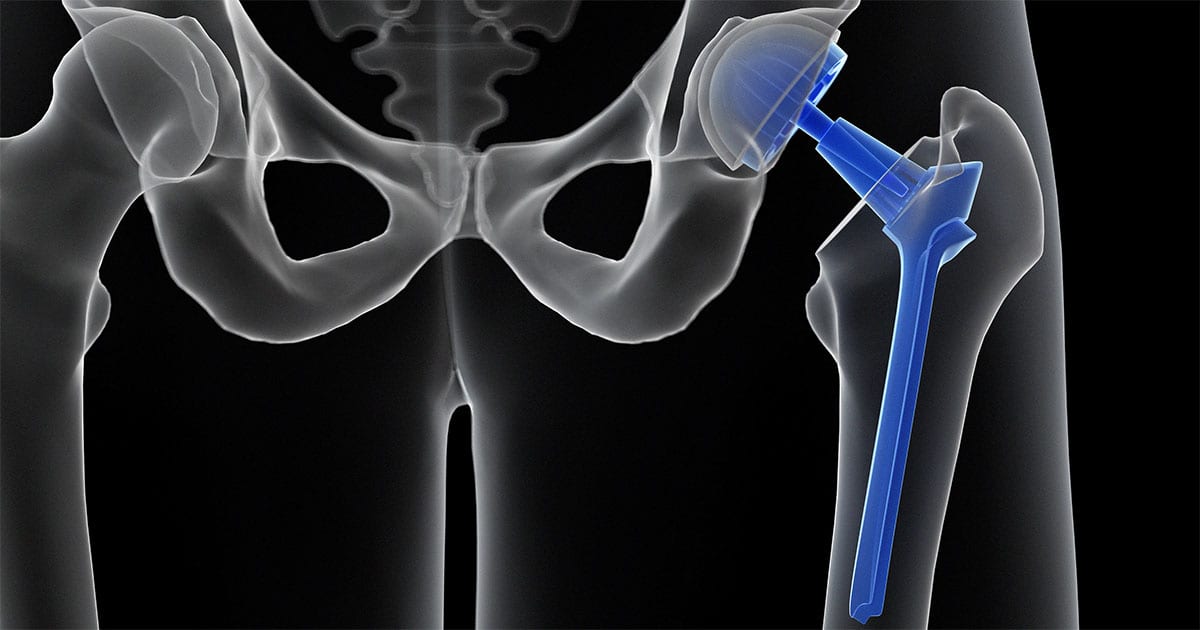 As people are becoming more active and living longer, bodies--joints in particular--are expected to perform more efficiently than ever.  But activities, injuries, and degenerative diseases can wear hip joints down. More than 300,000 patients will require a hip replacement surgery in the U.S. this year. If you're suffering from hip pain and other treatments haven't given you relief, you may need to know more about this common procedure.
In today's post, Dr. Jeffrey J. Sketchler will explain the causes of hip pain, what's involved in partial and full replacement surgery, and the prognosis for this surgery.
The anatomy of the hip
The hip is a ball and socket joint and one of the largest in the body. It is made of the acetabulum (part of the pelvis) and the femoral head (upper part of the femur). Ligaments, like rubber bands, keep the ball and joint stable. Articular cartilage covers the ball and socket. This smooth tissue helps everything move without friction. The synovial membrane covers the hip joint, which adds lubrication.
What conditions lead to hip replacement surgery?
In cases where the hip joint has been so damaged that conservative treatments are no longer effective, replacement is typically considered.  Reasons for hip replacement surgery may include:
Osteoarthritis

Dr. Sketchler says, "the number one cause for a hip replacement is osteoarthritis." When the cartilage on the hip bone starts to deteriorate, pain and stiffness occur. If the cartilage wears completely away, you'll feel severe pain when the bones rub together. Learn more about osteoarthritis...

Hip fractures

The second most common reason for a hip replacement, according to Dr. Sketchler, is a hip fracture. Hip fractures occur most often occur in the upper femur. Hip fractures or hip dislocations weaken the hip joint and can lead to degeneration. Learn more about bursitits...

Avascular Necrosis

This rare condition, also called osteonecrosis, is the cause of about 5% of hip cases, says Dr. Sketchler. Avascular necrosis is a result of long term steroid use or heavy drinking. These behaviors can interrupt the blood supply to the hip bone or femoral head, causing them deteriorate or collapse. Learn more about avascular necrosis...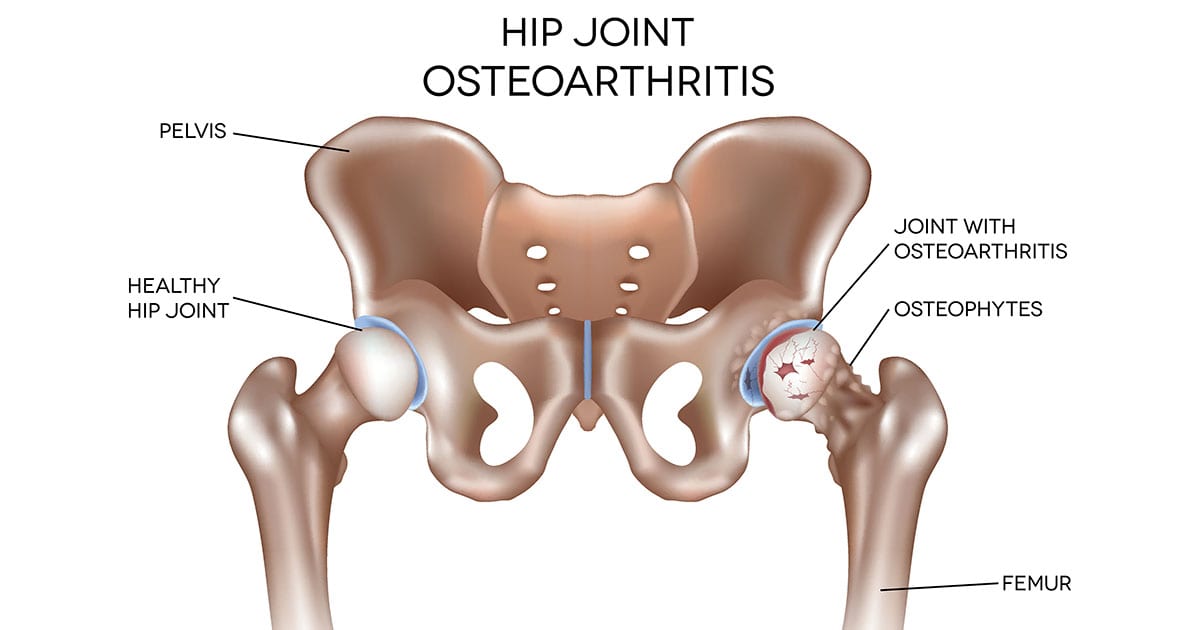 How hip replacement works
"Hip replacement surgery replaces the deteriorated or diseased parts of the hip joint with artificial implants to reduce pain and restore range of motion." 
- Jeffrey J. Sketchler, MD
Hip replacement surgery replaces the deteriorated or diseased parts of the hip joint with artificial implants to reduce pain and restore range of motion. These prosthetic parts can be made of a combination of metal (like titanium), ceramic, or polyethylene materials.
This surgery takes 1-2 hours and will require a one or two night stay in the hospital. When undergoing a replacement, you will be given general anesthesia or a spinal block, which will numb your lower body. During surgery, Dr. Sketchler will make an incision near your hip, which could range from 5-12 inches. He'll then remove the damaged bone and cartilage, and implant the prosthesis. After, he'll reattach the muscle and suture the incision.
How do you know it's time for surgery?
In his blog post Understanding Hip Pain, Dr. Sketchler explains the different types, causes and treatment options for hip pain. Hip replacement surgery is a significant procedure. However, the pain relief and restoration of mobility can be substantial. Therefore, it's important to understand the signs that suggest it's time for the surgery. "I always say, patients usually tell me when it's time for a replacement," says Dr. Sketchler. "When conservative treatments fail to resolve chronic hip pain, the question quickly shifts from if I need a replacement to when I need one."  A replacement procedure may be necessary if you have the following symptoms:
You have limited range of motion
Hip pain limits you from activities that require walking
Your hip or groin pain keeps you awake at night or wakes you up suddenly
You're unable to move from a seated to standing position or to climb stairs
Your pain hasn't responded to medication or other conservative treatments
Partial hip replacement

A partial hip replacement, or hip hemiarthroplasty, replaces the femoral head (ball) of the hip joint. Most patients have a partial hip replacement due to injury, rather than degeneration. This procedure doesn't treat bone disease and only replaces the ball because the joint is still healthy. Dr. Sketchler explains that conditions like a fracture would require only a partial hip replacement.

Total hip replacement

A total or full hip replacement is necessary in cases where both the ball and joint are weak and unstable due to disease. In a total hip replacement, the femoral head and the acetabulum (socket) are both replaced by prosthetic parts. Osteoarthritis and avascular necrosis usually necessitate a total hip replacement, according to Dr. Sketchler.
There are a couple of techniques Dr. Sketchler will use, depending on your condition. Some patients will be better suited for the more traditional technique: the posterior or lateral approach. These approaches involve an incision on the side or back of the hip. The muscle and tendons are detached, and the joint is replaced. Others may qualify for a newer direct anterior approach, which has a quicker rehabilitation. This minimally invasive approach includes a small (4-6 inch) incision on the front of the hip. Instead of detaching the muscle and tendons, Dr. Sketchler will move them to put the artificial joint in place.
Dr. Sketchler says, ideal candidates are those who are relatively active and healthy--specifically, patients in their 50s-70s and who desire to remain active. If a patient is advanced in age and also in poor health or is severely obese, Dr. Sketchler may recommend an alternative treatment.
Recovery After Surgery
After your hospital stay, recovery and rehabilitation are the top priorities. Before you're discharged from the hospital, a physical therapist will be scheduled to start your treatment plan at home. At-home therapy typically lasts about 2 weeks. Then, you'll go to the physical therapy clinic for several additional weeks of treatment. The goal is to have you walking as soon as possible and returning to a healthy range of motion.
One concern patients have about the recovery process is the amount of pain involved. Dr. Sketchler says that "modern hip replacement has really improved over time. A patient's pain will typically be moderate, not severe. There will be generalized soreness but usually the patient will be in less pain after the surgery than they were before it." One of the reasons for this is that during surgery, Dr. Sketchler injects medication that limits both pain and blood loss. This helps reduce pain during the recovery period.
Prognosis after surgery
Following a successful surgery, you'll be in considerably less pain! You should notice a significant improvement in your range of motion and ability to partake in daily activities. Dr. Sketchler doesn't place any restrictions on activities after surgery. He does, however, suggest that you steer clear of high-impact activities, which can put too much stress on the new artificial joint. Low-impact activities like swimming or riding a bike would be better options. At your post operative visit, Dr. Sketchler will explain your recovery plan in detail.
You don't have to suffer with hip pain
If you have hip pain and would like to have it evaluated, contact us today for an appointment. The earlier the diagnosis, the more treatment options are available. Dr. Sketchler or one of the other orthopedic specialists at Pontchartrain Orthopedic and Sports Medicine will give you a thorough evaluation and let you know if you're a candidate for hip replacement surgery.
About the Doctor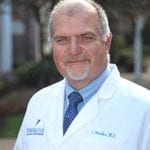 New Orleans native Jeffrey J. Sketchler, MD is a board certified orthopedic surgeon with over 25 years of experience in the surgical and non-surgical treatment of musculoskeletal and orthopedic conditions. He specializes in treating conditions that affect the hip and other large joints.
---
This website is not designed to and does not provide medical advice, medical diagnosis, professional opinion, treatment or services to you or any other person. Through this website and links to other websites, Pontchartrain Orthopedics & Sports Medicine provides general information for educational purposes only. The information provided in this website, or through links to other sites, is not a substitute for medical care. You should not use this information in place of a visit, call, consultation or the advice of your healthcare provider. Pontchartrain Orthopedics & Sports Medicine is not liable or responsible for any advice, course of treatment, diagnosis or any other information, services or product you obtain through this site.