Holidays & the Chronic Pain Patient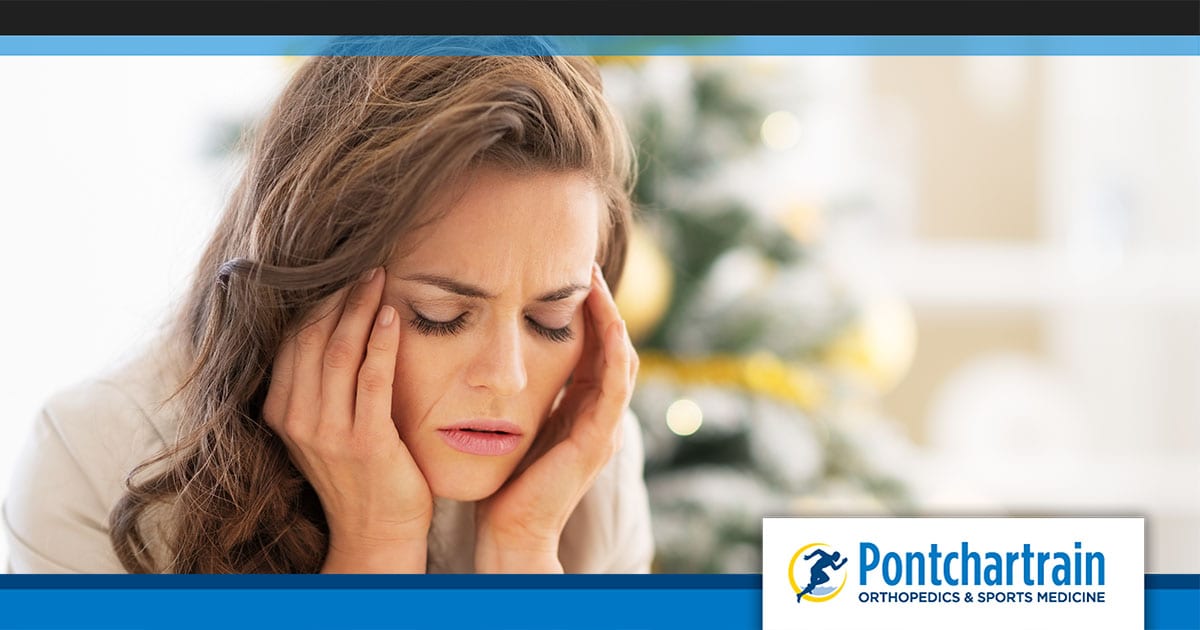 The holidays will be here soon. While it's a time for celebration, for a chronic pain patient it can also be trying. All of the parties, gift giving, and family meals might be difficult for someone with chronic pain. Suddenly you are busier and your days become fuller. In addition, the effects of the winter season can also cause depression. If you're suffering from chronic pain, managing that pain while still being able to participate in the festivities can be a challenge.
Dr. Michael Zeringue, MD, MPH, knows how chronic pain can affect your life, during the year and especially for the holidays. With a little extra care, pain doesn't have to slow you down.
In today's post, we'll explain how the winter holidays can affect your chronic pain and how to manage it so you can enjoy your holidays this season.
Winter Challenges for the Chronic Pain Patient
Many things cause pain to worsen, and during the winter holidays, a change in weather can have a major impact. When winter comes, changes in pressure, moisture, and temperature can be pretty drastic. These changes can cause patients to feel more aches, stiffness and have limited range of motion.  Although achiness seems like a nuisance, to the chronic pain patient, it can considerably increase their pain.
Do Shorter Days + Depression = Pain?
Shorter winter days affect people in a couple ways. Since it gets darker earlier, your opportunities to exercise outdoors can be significantly reduced. Shorter days can also impact your mental health. Many people who are prone to depression find that this worsens during the winter. If you are affected by Seasonal Affective Disorder, you may find that increased depression occurs during the winter. Managing your depression along with any chronic pain you are having will be more challenging this time of year. Dr. Zeringue says, "We do know that depression affects pain. The same area of the brain that processes emotion also processes pain. The two get associated and confused by the brain. You have to treat one to treat the other."  
Is there a Link Between Inflammation and Chronic Pain?
Inflammation plays a direct role in pain. You might find an increase in your pain during the holiday season because of an increase in eating and drinking things you generally don't have. Ingredients in holiday treats like alcohol, gluten, dairy products, and preservatives can all cause inflammation. Pay attention to your diet for these inflammation-causing ingredients. Try to limit anything that may cause inflammation and worsen your condition.
"Alcohol, gluten, dairy products, and preservatives can all cause inflammation. "
What Can I do to Manage Pain ?
Self-care is so important for the chronic pain patient. In addition to parties and holiday food, winter's cold weather makes it much easier to be sedentary. Keeping life on track is challenging, especially during busier times of the year like the holidays.
Eat Right and Exercise

In addition to parties and holiday food, winter's cold weather makes it much easier to be sedentary. These things combined can lead to stiffness and weight gain. Maintaining a well-balanced diet and exercising are things you can do that will help you manage your pain. If you stray from your usual diet or exercise routine, you'll find that you feel worse. Add to that holiday eating and activities and this could mean an increase in your pain. Attention to maintaining your healthy eating habits and exercise routine will give you more energy and less pain so that you can enjoy the season's festivities.

Set Limits

The level of activity increases significantly during the holidays . Lots of parties, functions, and events to go to, which means lots of rushing around. This can be hard if you suffer from chronic pain. It's important to know that it's acceptable to set limits. Do only what you feel comfortable doing. It's okay to say 'No.' By setting limits and doing only what feels comfortable for you, you'll be able to better manage your pain.

Keep Your Routine

Moderation with inflammatory foods such as sweets, alcohol, and gluten is important. Exercise, sleeping well, and meditation help. Patients should focus on their treatment regimen and not get distracted or deviate from it during the holidays.
Enjoy Yourself this Holiday Season
The holidays are a time to enjoy yourself with your family and friends. For the chronic pain patient, understanding what can cause chronic pain or depression to worsen is the first step on the path to healing. At Pontchartrain Orthopedic and Sports Medicine, we offer a range of treatments for pain management. Contact us to find out more about ways to ensure that you have a wonderful holiday season.
About Dr. Michael Zeringue, MD, MPH
Dr. Michael Zeringue MD, MPH is a triple board certified physician in Pain Management, Sports Medicine and Family Medicine. Dr. Zeringue earned his medical degree from Tulane University  and completed his internship and residency in Family Medicine at John Peter Smith Hospital in Fort Worth, Texas. Following residency Dr. Zeringue finished two separate fellowships in Sports Medicine and Pain Management. He is a life long New Orleanian and served for several years as team physician for Brother Martin High School in New Orleans.
---
This website is not designed to and does not provide medical advice, medical diagnosis, professional opinion, treatment or services to you or any other person. Through this website and links to other websites, Pontchartrain Orthopedics & Sports Medicine provides general information for educational purposes only. The information provided in this website, or through links to other sites, is not a substitute for medical care. You should not use this information in place of a visit, call, consultation or the advice of your healthcare provider. Pontchartrain Orthopedics & Sports Medicine is not liable or responsible for any advice, course of treatment, diagnosis or any other information, services or product you obtain through this site.