Coronavirus (COVID-19) - Reopening Healthcare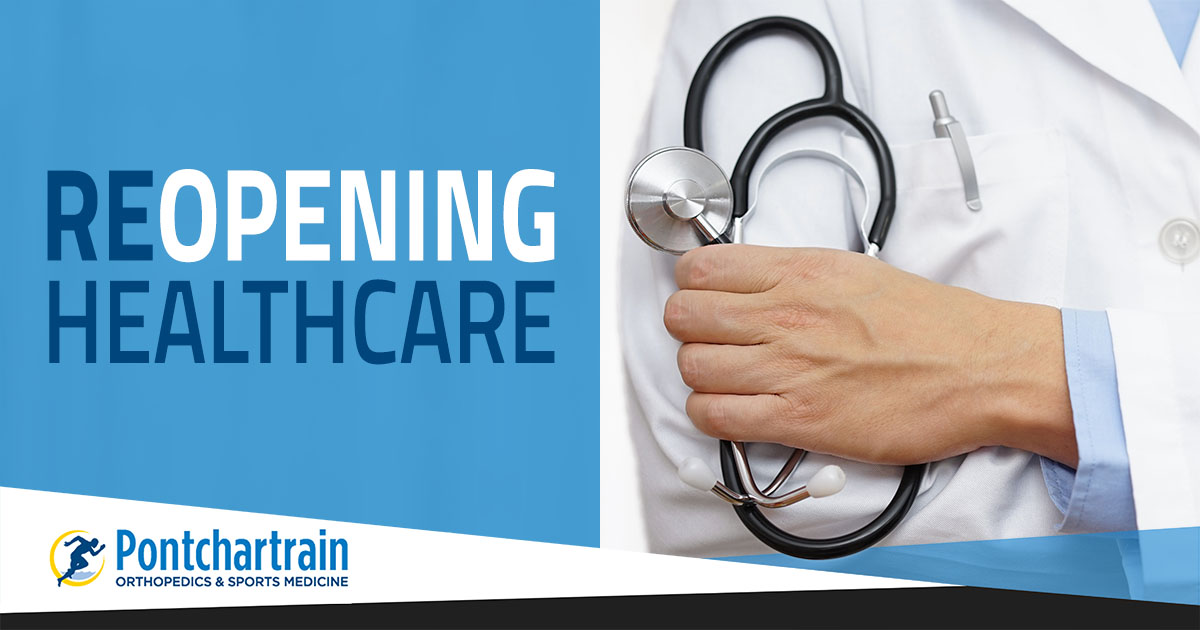 Today marks our first step towards reopening healthcare in Louisiana. The Louisiana Department of Health will allow for time sensitive medical procedures beginning on Monday, April 27.
We will be scheduling appointments on a case by case basis as determined by the doctors based on LDH mandates and social distancing guidelines. As we have throughout this entire pandemic, our office continues to care for patients but with the public health restrictions lessening, we are able to accommodate more than acute and urgent issues. However, in line with LDH recommendations, we will continue to manage many of our patients via tele-medicine appointments when appropriate.
What Type of Cases Will be Scheduled?
We are now authorized to schedule procedures for time sensitive medical conditions. Time sensitive medical conditions are those that need to be performed either because they have been postponed due to previous restrictions and/or the delay in treatment may cause pain, distress or further negative outcomes for the patient.
Our criteria for selecting cases revolves around protecting the patient's health as well as our healthcare workers. Postponed elective procedures that can be delayed without adversely affecting the particular patient or the underlying disease may remain on hold for the time being.
What This Means to You
Please contact our office to schedule an appointment, reschedule a procedure or if you have any questions. We will discuss your unique situation and make the appropriate recommendations. Should you require an office visit, we will have a modified check-in procedure and restricted seating in our waiting areas. To reduce social interaction, ONLY PATIENTS WILL BE ALLOWED IN THE FACILITY. Family members will be asked to wait outside, in their vehicle.
Why the Continued Precautions?
The COVID-19 pandemic is far from over. Louisiana is among the nation's leaders in the number of COVID-19 tests performed relative to its population. However, more robust testing and tracking of people who have come in contact with the virus is necessary, but not currently available. Therefore, we are still at risk of a second-wave of infections.
We could see a quick return to lock-down should we experience another spike in cases, which is why it is important to stay vigilant. Please continue to avoid close contact with people whenever possible, wash your hands regularly, and wear a mask when possible.
Why Wear a Mask?
Governor Edwards explained the use of masks well when he said, "[Wearing a mask is just] being polite. It's being considerate, because when you wear a mask, you're protecting somebody else. When they wear a mask, they're protecting you."
"[Wearing a mask] is being polite. It's being considerate, because when you wear a mask, you're protecting somebody else. When they wear a mask, they're protecting you."
Thank You for Doing Your Part
We are able to reopen healthcare in Louisiana in no small part thanks to people like you who have cooperated with the stay at home order. Please continue to do your part moving forward. We ask that any patient who feels ill or has been in contact with someone experiencing the symptoms of COVID-19 to call the office prior to coming in for their appointment.
How To Contact Us
The threat of COVID-19 will continue to exist for the foreseeable future. We need to act accordingly to protect our health and the health of our community. We appreciate your patience as we expand our treatment options, reschedule appointments and procedures, and take the next steps in reopening healthcare.
To reschedule a postponed procedure, schedule an in-office or telemedicine appointment, or if you have an urgent orthopedic emergency, please contact our Metairie office at (504)885-6464 and our Boutte office at (985)764-3001.
---
This website is not designed to and does not provide medical advice, medical diagnosis, professional opinion, treatment or services to you or any other person. Through this website and links to other websites, Pontchartrain Orthopedics & Sports Medicine provides general information for educational purposes only. The information provided in this website, or through links to other sites, is not a substitute for medical care. You should not use this information in place of a visit, call, consultation or the advice of your healthcare provider. Pontchartrain Orthopedics & Sports Medicine is not liable or responsible for any advice, course of treatment, diagnosis or any other information, services or product you obtain through this site.