Platelet Rich Plasma Therapy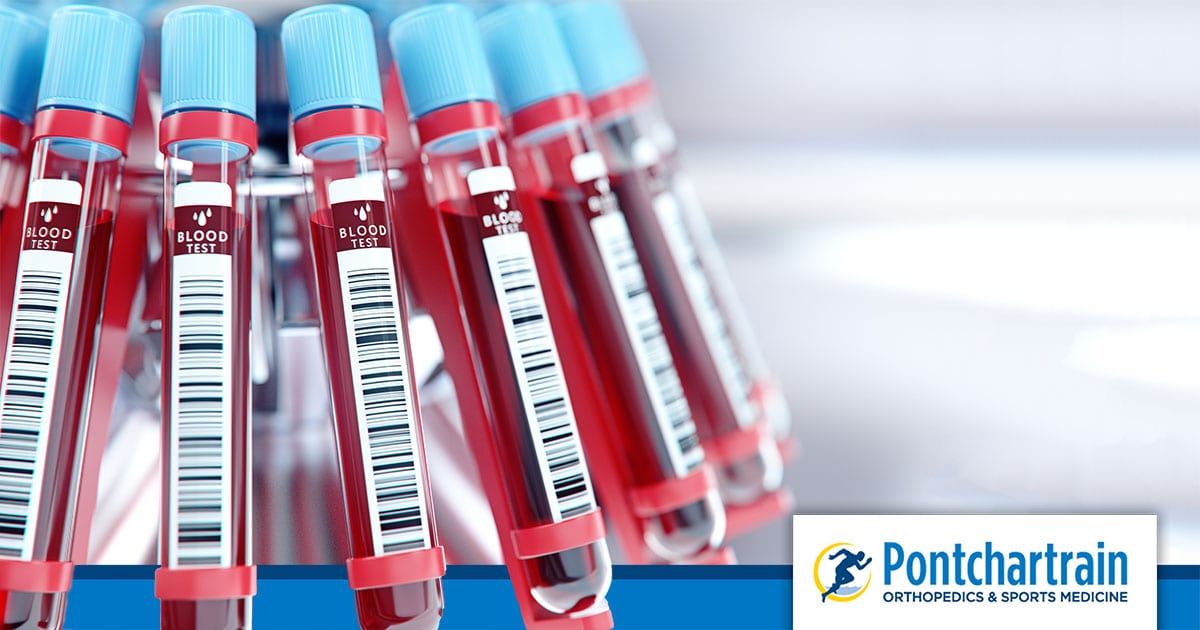 Platelet rich plasma therapy, also known as activated PRP plus, is a rapidly emerging treatment option for injuries which, in the past, could only be treated with medications, physical therapy, or surgery.
In today's post, we'll discuss platelet rich plasma therapy and why it may be the right regenerative therapy for a wide range of common orthopedic conditions including knees, shoulders, and hips.
How does platelet rich plasma therapy work?
Regenerative therapies like activated platelet rich plasma use a patient's own blood to stimulate healing. In this therapy, blood is drawn and put into a centrifuge to separate the platelets. The preparation is then activated with an ultraviolet light before being injected into the site of the injury. The concentrated bioactive proteins contained in the PRP injection deliver a powerful dose of growth factors to stimulate tissue and bone regeneration.
What conditions does PRP therapy treat?
There are several conditions platelet rich plasma therapy treats. The therapy is especially useful in treating tissues that don't heal on their own or areas of bone with little or no blood supply.
Conditions commonly treated include:
Rotator cuff injuries
Tennis/golfer's elbow
Knee sprains
Lumbar disc pain
Osteoarthritis
Sacroiliac (SI) joint pain
Ankle sprains
"PRP therapy is especially useful in treating tissues that don't heal on their own or areas of bone with little or no blood supply."
What are the benefits of PRP therapy?
Some injuries or conditions simply don't respond well to traditional treatment. If traditional treatments have failed, regenerative therapy might be right for you. Aside from being highly successful, platelet rich plasma therapy is a minimally invasive procedure. This means it can be less expensive and have a faster recovery time than traditional surgeries.
High Success Rate
Minimally Invasive Therapy
Out-Patient Procedure
Less Expensive Than Surgery
Faster Recovery Time
Is platelet rich plasma therapy right for you?
Dr. Michael Zeringue MD, MPH specializes in PRP therapies, as well as the full spectrum of orthopedic treatments for tissue, joint and bone injuries and conditions. If you would like to know more about regenerative therapies and how they could benefit you, please contact us today for a consultation.
About the Doctor
Dr. Michael Zeringue MD, MPH is a triple board certified physician in Pain Management, Sports Medicine and Family Medicine. He specializes in interventional spine treatment and has extensive experience with regenerative therapies. A life-long New Orleanian, Dr. Zeringue earned his medical degree from Tulane University. After his residency at John Peter Smith Hospital in Fort Worth, Texas, Dr. Zeringue finished two separate fellowships in Sports Medicine and Pain Management.  
---
This website is not designed to and does not provide medical advice, medical diagnosis, professional opinion, treatment or services to you or any other person. Through this website and links to other websites, Pontchartrain Orthopedics & Sports Medicine provides general information for educational purposes only. The information provided in this website, or through links to other sites, is not a substitute for medical care. You should not use this information in place of a visit, call, consultation or the advice of your healthcare provider. Pontchartrain Orthopedics & Sports Medicine is not liable or responsible for any advice, course of treatment, diagnosis or any other information, services or product you obtain through this site.