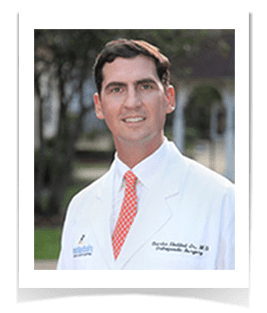 Dr. Charles G. Haddad, Jr. will host a free educational seminar on joint replacement on Tuesday, May 21st from 6-8 PM at Petra Restaurant in LaPlace, LA.
Participants will learn more about the common causes, symptoms, and treatment options for joint pain, as well as the latest advances for joint pain treatment, including Mako Robotic Arm Assisted Technology for total knee, partial knee, and total hip replacement.
Space is limited and pre-registration is required. Dinner will be served.
Dr. Haddad is board certified by the American Board of Orthopaedic Surgery. After receiving his medical degree from Tulane University School of Medicine, he completed his orthopedic surgery internship at Atlanta Medical Center, and a Sports Medicine Fellowship in Jackson, MS, at the Mississippi Sports Medicine and Orthopedic Center.
Petra Restaurant is located at 1036 W. Airline Highway in Laplace.