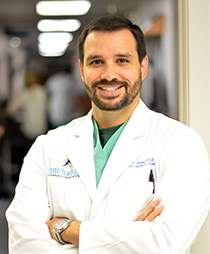 BRANDON DONNELLY, MD
Board-Certified Orthopedic Surgeon
Biography
Dr. Brandon Donnelly is an Orthopaedic Surgeon with Pontchartrain Orthopedics and Sports Medicine where he specializes in Orthopedic Hand and Upper Extremity Surgery.
Born and raised in Slidell, Louisiana, Dr. Donnelly attended Cornell University where he graduated Magna Cum Laude with a degree in Biological Sciences. He then earned his medical degree from LSU School of Medicine in New Orleans, and was awarded the Orthopedic Surgery Award his senior year. He remained in the New Orleans area, and completed his residency training in Orthopaedic Surgery at the LSU School of Medicine and was nominated to attend the American Orthopaedic Association Resident Leadership Forum.
After completing his residency, Dr. Donnelly further specialized in Orthopaedic Hand, Upper Extremity, and Microvascular Surgery at the Philadelphia Hand Center at Thomas Jefferson University and the Philadelphia Shriner's Hospital for Children. There he was involved in the treatment of all aspects of upper extremity pathology, from treating pediatric congenital disorders to assisting in the care of professional athletes from the Philadelphia Eagles, Flyers, and Phillies. He is an active candidate member of the American Society of Surgery of the Hand, the American Association for Hand Surgery, and American Association of Orthopedic Surgeons.
Dr. Donnelly's practice focuses on all aspects of injuries and ailments affecting the hand, wrist, elbow, and arm in the adult and pediatric patient; furthermore, he is especially interested in minimally invasive arthroscopic surgery of the hand and wrist.
QUALIFICATIONS
Undergraduate
Cornell University
Ithaca, NY
Residency
LSU School of Medicine
New Orleans, LA
Fellowship
Philadelphia Hand Center
Thomas Jefferson University
New Orleans, LA
Board Certification
American Society of Surgery of the Hand
American Association of Orthopedic Surgeons