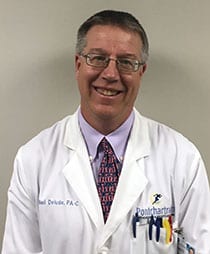 Biography
Mr. Delude joined Pontchartrain Orthopedics and Sports Medicine in December 2012 and assists Dr. Jeffrey Sketchler in clinic and surgery.  He also sees new, established and postoperative patients several days a week in the Metairie Office.
Mr. Delude Graduated from Chicago Medical School in 2000.  He has been certified as a PA-C for the past 18 years and has worked his entire career in orthopedics in the New Orleans Metropolitan Area.
Neil is competent in evaluating and treating all orthopedic injuries and conditions of the upper and lower extremities including interpreting x-rays, MRI images and lab results.
QUALIFICATIONS
Education
Chicago Medical School
Chicago, IL