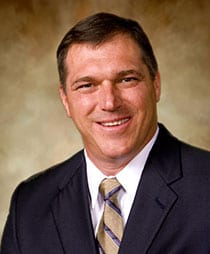 KEITH MELANCON, MD
Board-Certified Orthopedic Surgeon
Biography
Dr. Melancon is a Board Certified Orthopaedic Surgeon with a long family history in the river parishes.
After graduating from Hahnville High School, he attended LSU where he was a three-year letterman in football and the starting offensive guard for the 1986 SEC championship team. During his tenure at LSU, Dr. Melancon was named to the Academic All-SEC team 3 times and Academic All American team his senior year.
He completed his medical degree at LSU New Orleans and then received his residency training at University of Mississippi Medical Center in Jackson, Mississippi. He began his career in Hattiesburg, MS where he performed over 10,000 surgeries as a general orthopaedist with a focus on foot and ankle surgery.
He has served as the team physician for the University of Southern Mississippi, William Carey College, Pearl River Junior College, and a vast number of high schools. He was one of the founding physicians of the Physician Center for Musculoskeletal Medicine; the first comprehensive center for musculoskeletal health in the Gulf South as well as the Orthopedic Institute; Mississippi's only cooperative endeavor between an orthopedic surgery group and a community hospital to provide a single specialty hospital with cutting edge technology. He also served as President of the Mississippi Orthopaedic Society.
In 2007 his surgical career came to an abrupt halt after he was diagnosed with a malignant brain tumor. After surgery to remove the tumor, the function in his right hand was severely diminished. In 2009, Dr. Melancon began teaching residents as an Assistant Professor in the LSU Orthopaedic program and left in 2013 to spend more time with his family in St. Charles parish. As part of the Pontchartrain Orthopedic team, Dr. Melancon continues to enjoy treating patients with arthritic and traumatic conditions throughout the body. He practices at our Boutte campus.
QUALIFICATIONS
Education
Louisiana State University School of Medicine, New Orleans, LA

Residency
University Hospitals and Clinics, Lafayette, LA
Internship
University Hospitals and Clinics, Lafayette, LA